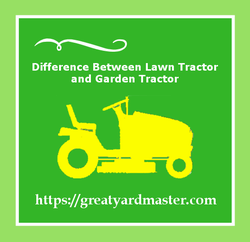 Riding lawn mowers are indispensable helpers on any type of property. Once you start exploring options on the market of gardening equipment, you will see that there are quite a few of them. Let's see the difference between lawn tractor and garden tractor.
The choice depends on your needs and the sum of money you are willing to invest. Depending on how much land you own and how you manage it, your needs will be different. Some property owners can get by with a regular lawnmower. Others need some heavy-duty and versatile equipment, such as a tractor. In this review, we are going to learn a detailed difference between two seemingly similar vehicles – a lawn tractor and a garden tractor. You will find out which one of them can best satisfy your needs.
Best riding mower with locking differential
One of the most important things that distinguish garden tractors from other riding mowers is locking differential. Simply put, this is a mechanism that forces drive wheels to rotate with the same speed, regardless of the conditions. That provides enhanced ground traction and vehicle stability on mixed terrain – sand, gravel, slippery or bumpy ground, etc. Differential locks are usually installed in off-road vehicles, utility vehicles, tractors, and other heavy-duty machinery. Best garden tractor for hills is the one that features a differential lock. However, the advantages of this mechanism come with a trade-off. Locked wheels make the vehicle less maneuverable and cause faster tire wear and greater fuel consumption.
| Characteristics | Lawn Tractor | Garden Tractor |
| --- | --- | --- |
| Power | 15-25 HP | 20-30 HP |
| Deck Size (diameter) | up to 48" | up to 70" |
| Differential Lock | No | Yes |
| Maneuverability | High | Low |
| Functionality | Mowing, towing, moving snow (some machines) | Mowing, towing, throwing snow, fertilizing, sowing, tilling, moving stuff, hoeing, etc. |
| Average Price | $1,500 - $2,000 | $3,000 - $8,000 |
What else is out there?
Garden and lawn tractors are not the only options available. For an odd-shaped lawn with numerous design elements and uneven ground, you might want to consider a zero-turn mower for rough terrain. Such machines are more maneuverable than other riding mowers. They can turn 360 degrees with zero radius (this is how they got the name) and allow you to navigate in narrow spots and hilly terrain.
Here you can see more information about best zero turn mower for rough terrain!
Other features
In any case, no matter what riding mower you use, make sure you have good landscape edging especially for uneven surfaces. That will help you maintain the garden intact while you mow. It also gives a well-groomed, neat appearance to your yard. This rule works always and everywhere!
Here you can see more information about best landscape edging for slopes!
What is a lawn tractor?
A lawn tractor is a motorized riding mower with a middle-mounted cutting deck, rear-wheel drive, front motor and steering mechanism, just like in a regular tractor. Such machines have comfortable driver seats.
Although the main purpose of a lawn tractor is mowing, this is not the only thing it can do. Most lawn tractors have enough horsepower to tow a cart with gardening tools or a stack of hay, for instance. Besides, some tractors come with detachable cutting decks, allowing them to be completed with other compatible equipment.
What is best lawn tractor?
There are several choice criteria that can help find the best machine. The first thing you should consider is horsepower. The more horsepower a tractor has, the better it handles its job and the more versatile it is. On average lawn tractors have 15-25 HP.  Another choice criteria is the width of the cutting pass. The larger a cutting (mowing) deck is, the more grass it can trim at a time. If your number one priority is productivity, you should look for a tractor with a wide deck.
Lawn tractor pros:
Affordable price.
Maneuverability.
Moderate fuel consumption.
Comparatively easy to drive (you can even find the best lawn mower for a woman to use).
Lawn tractor cons:
Limited scope of jobs it is capable of performing.
Rides only on relatively even ground.
Low-power motor.
What can a garden tractor do?
Garden tractors are way more versatile and powerful than lawn tractors. They can perform a wide variety of functions, such as mowing, tilling, towing, sowing, throwing snow, hoeing, etc. (of course, if equipped with respective attachments). Garden tractors can work on rough and hilly terrain they can maneuver on loose ground, tall grass and mud.
Mowing with a garden tractor gets easier and quicker thanks to its enlarged cutting deck (which can be as wide as 70 inches in diameter). It is perfect for large yards, gardens, and even farmland.
Besides, mowing garden tractors can perform a wide variety of jobs on the property. They are compatible with all kinds of attachments for gardening and construction. As compared to lawn tractors, these ones have larger motors, wider tracks, larger wheels, and longer wheelbases. All that makes them heavier and generally less maneuverable than lawn tractors. Nevertheless, if you want to buy the most reliable riding, there is no better choice than a heavy-duty garden tractor.
Important Information
Garden tractors require experienced and skillful operators. Some people might find it rather hard to drive this machine, leave alone operate the attachments. Sometimes it is just easier to get a smaller and less demanding machine to ensure safe and effective performance.
Garden tractor pros:
Quite powerful.
Can handle versatile jobs. A garden tractor with PTO (power take-off) uses its motor power to operate complementary equipment.
Perfect for hilly and uneven terrain.
Provides better traction with the ground.
Garden tractor cons:
Higher fuel consumption.
Poor maneuverability.
Hard to operate.
Rather expensive.
Conclusion
The bottom line is that both lawn tractors and garden tractors come with their own advantages, disadvantages, and specifics of use. If you require a versatile machine with a lot of horsepowers, a garden tractor will probably be your best choice. On the other hand, if your main task is mowing, then a lawn tractor will suffice. If your garden or yard has steep slopes, inclines, and twisty passages, you should consider a zero-turn mower for hills and rough terrain.
Video Reviews Zero-Turn Mower