Greatyardmaster is reader-supported. When you buy through links on our site, we may earn an affiliate commission.
We all love our gardens, lawns, and yards, so when it comes to arranging these areas we want only the best landscape edging. But how do we find it among such an abundant array of choices? That is not an easy task, but fairly manageable.
If you are in a search for outdoor garden borders and edging and wondering what is the top landscape edging to use, this article can provide you with some useful information.
Here you can also find some useful landscape edging ideas to incorporate into your project.
Top Landscape Edging in 2023
Image
Product
#1. Master Mark 95340


Design - Coil
Colors - Wood
Height - 5-inch
Coverage - 40 ft
Material - Plastic

Editor's Choice


Check Price


Read Our Review
#2. Dalen E3-16B


Design - Sectional
Colors - Black
Height - 5 1/8 "
Coverage - 18 ft (16pieces)
Material - Plastic

Check Price


Read Our Review
#3. Greenes Fence


Design - Sectional
Colors - Natural finish
Height - 7" and 5"
Coverage - 18 ft
Material - Cedar wood

Check Price


Read Our Review
#4. Dimex EasyFlex


Design - Coil
Colors - Black
Height - 1.5"
Coverage - 40 ft
Material - Plastic

Check Price


Read Our Review
#5. Emsco Group


Design - Sectional
Colors - 7
Height - 4 "
Coverage - 10/20 ft
Material - Plastic

Check Price


Read Our Review
#6. EverEdge


Design - Sectional
Colors - 4
Height - 3"/4"/5"
Coverage - 16.25 ft
Material - Steel 1.6 mm

Check Price


Read Our Review
#7. Suncast Brown BSE10BR


Design – Sectional
Colors – 2
Height – 5-3/4"
Coverage – 10ft. (10 sections)
Material – Resin

Check Price


Read Our Review
#8. Grass Barrier


Design – Coil
Colors – Black
Height – 10"
Coverage – 30ft.
Material – Recycled HDPE

Check Price


Read Our Review
1. Master Mark 95340 Terrace Board – Easy Edging for Flower Beds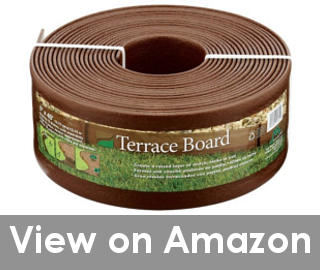 This is an affordable landscaping solution, designed mainly for keeping mulch and soil from spilling out of flower beds. It can be used as a barrier to prevent grass from spreading to places where it should not grow, but that would require burying the coil at least halfway in the ground. Given that this landscape edging does not have any spikes that will be an uneasy job. However, many homeowners have successfully completed such projects, so this is not impossible and can be definitely worthwhile in some cases.
This landscape edging is made of thick plastic with a wood-like finish. It is flexible and bendy, so one can easily use it to create wavy lines and irregular shapes.
If you think that burying the coil is too painful a job, you can buy stakes that will make the process much easier.
Interesting Benefits
Made of plastic.
5 inches high.
Wood-like finish.
Pros
Bends excellently to form various shapes and curves.
If used for projects that do not require digging, this lawn edging is very easy to install.
Made of recycled plastic.
Cons
Stakes need to be bought separately.
You will not be able to form neat corners with this landscape edging. Only smooth lines.
Verdict
Some landscaping project does not require sturdy edging. If you are not willing to spend a fortune on lawn edging but still need to mark off mulched areas from the rest of your garden, this might be the right choice for you. Although this landscape edging has a somewhat limited scope of applications, it is still quite popular among homeowners.
2. Dalen Products E3-16B Gardeneer – Effective Sectional Edging for Lawns and Flower Beds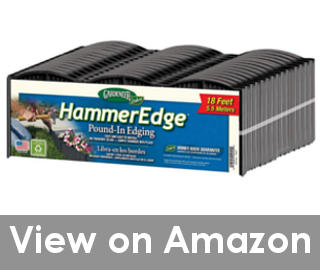 This sectional landscape edging from Dalen Products resembles cute old-fashioned arched fences. It is perfect for localized landscaping projects, such as flower beds, and tree beds. The product comes in a set of 45 pieces, totaling 18 feet in length. Each section features a sharp bottom edge that can be hammered into the ground without the need for gigging. The sections snugly interlock with each other to create a seamless look and secure lawn edging.
How to install plastic garden edging? It is rather easy and mess-free. All you need is to connect the sections together and hammer them into the ground with a mallet. You will not need any stakes or additional supporting elements. This landscape edging is perfect for projects with multiple corners, such as square, rectangular, hexagonal and zigzagged beds.
Useful Facts
Total height – 5 ⅛ inches.
45 sections in a package.
Total length – 18 feet.
Made of recycled plastic.
Black color.
Pros
Perfect for small-size areas, such as raised flower and tree beds.
Easy to install.
Small sections allow you to create complex forms with multiple angles with desired precision.
Elegant arched design.
Cons
Only available in black color.
Verdict
The Dallen Product sectional lawn edging allows creating elegant and reliable borders with little effort. This is one of the super edgings for mulch beds and blower beds because it consists of multiple sections and allows creating various forms without cutting.

3. Greenes Fence – Best Wooden Edging for Flower Beds
This nature-inspired landscape edging can add a rustic appeal to your garden, walkway or front lawn. It is made of cedar wood with a finish that accentuates the natural wood grain. Besides, the finish helps prevent discoloration caused by exposure to weather elements.
One piece of lawn edging consists of 6 staggered half-logs, 18 inches in total, connected by a flexible plastic backing. The packs are available in multiple quantities so you can choose one that would suit your project better. Each cluster of half-logs has two metal spikes for easy installation. Unless you have extremely hard soil, installation does not require digging or using special tools.
Thanks to a flexible backing, this landscape edging can be used to form circular and curved shapes, as well as straight lines. That gives you more opportunities to be creative when arranging your landscape.
Interesting information
18-inch long clusters of half-logs.
Natural cedar wood.
7 and 5 inches tall (staggered design).
Packs of multiple sizes are available.
Pros
This is a flexible lawn edging that allows you to create different curved shapes, not just straight lines.
Natural wood will look appropriate in any landscape arrangement.
Easy installation, no special tools or skills are required.
Cons
Although the wood is stained, it still might fade a little if constantly exposed to direct sunlight.
Verdict
Greenes Fence half-log lawn edging can become a nice embellishment to your garden. It is simple and natural-looking. So it will not draw attention away from the flowers and other landscape elements but only accentuate their beauty. This lawn edging is flexible and gives an opportunity to incorporate creative forms into your landscape.

4. Dimex EasyFlex – A Low-Profile Black Plastic Flower Bed Edging
The most beautiful landscaping projects can be made of simple combinations of different textures and patterns. But how can you achieve a seamless look and keep different types of mulch separate? With a 1.5-inch plastic border from Dimex, that will be easy.
This landscape edging is made of flexible recycled plastic. The coil is available in different lengths and has multiple mounting tabs and comes with a set of spikes to hold it in place. Besides, it is supplied with a pair of matching connectors to create seamless joints. If you do not need a full length, you can easily cut the coil with garden scissors.
How to install black landscape edging and not spoil the look? With Dimex EasyFlex it is not hard at all. In spite of the dark color, this lawn edging will not look distracting since it is very low and easy to hide behind the grass, mulch, gravel or other landscape elements.
Features and Specifications
Measures 1.5 inches in height.
Black color.
Made of plastic.
Comes with a set of spikes and connectors.
Pros
The material is very flexible and easy to bend. Besides, once you have worked it up into a shape, its stays in place securely.
Supplied with extra-long spikes (8 inches in length).
Available in coils of different lengths so you can choose the right one for your project and avoid waste as much as possible.
Easy to cut.
Cons
To ensure a secure fit you will have to purchase additional spikes.
Verdict
If you need landscape edging to create a borderless design, this product will be perfect for your project. Taller lawn edging requires more soil, mulch or gravel to get covered, but this one is low enough to make installation as easy as possible at the same time providing a reliable spacing.

5. Emsco Group – Trim Free Mowing Strips Lawn Edging
This landscape edging is designed to shape up a stylish garden that is also easy to maintain. The trim-free design means that you don't have to use any special instruments to trim the grass that grows close to the border. You can simply go over it with a lawn mower and enjoy an excellent result.
This brick-shaped plastic lawn edging comes in five different colors and in a rustic slab-like design. Each section contains a side flange with premade holes for the stakes to come through and secure the landscape edging to the ground. Hammering or any other kinds of manipulations are not required.
The sections lock easily with one another. There is no risk of damaging fingers or nails. Once the landscape edging is installed it creates a secure borderline that will keep weeds and seedlings from spreading out and ruining the look of your landscape.
Features and Benefits
Up to 4 inches in height.
Comes in sections, totaling 10 or 20 feet.
Made of polyethylene.
Available in seven colors and two designs.
Includes stakes for mounting.
Pros
This landscape edging features a flange that has a dual purpose: it keeps the weed off your lawn or sidewalks and allows you to mow near the borderline without worrying about damaging it.
Installs easily and securely only with the components provided in a set.
You can choose the color that suits your landscape design the excellent.
The plastic is BPA-free and is safe to come in contact with food.
Allows incorporating various design ideas into your projects.
Cons
Although it is perfect for making corners, it will not let you achieve smooth curves.
Verdict
This is a low-profile landscape edging that you will not want to hide. Its brick-like design will blend in well with any landscape style. This is a great lawn edging option since it can be mown over without the risk of damage.

6. EverEdge – Quality Metal Edging for Landscaping
If you are looking for sturdy landscape edging for your flower beds or graveled areas, this might be the right product. The EverEdge lawn edging is made of galvanized steel 1.6 millimeters thick. It comes in five different finishes, each of which is available in three heights. As you can see, there are plenty of options to choose from. By choosing a certain color you can opt for either an industrial or natural look, or better still create your own unique design.
Each 39-inch-long metal edge trim for landscaping features 6 sharp spikes that enable effortless installation. Each section of the lawn edging has a locking mechanism on both sides to connect permanently with another. Once locked, they form a seamless border that will not let soil, mulch, or any other landscape particles through.
Additional Information
3, 4 and 5 inches in height.
Available in 5 finishes.
3-inch-long spikes.
Made of galvanized steel.
Pros
Thick, durable and sturdy lawn edging.
Offers a minimalist and clean-looking style.
Corrosion-resistant and impervious to mold, mildew and wood pests.
Easy to mount.
Each section and spikes are one solid piece, so there is a very little chance it would bend or break under the pressure of soil or bed contents.
Cons
Requires some physical strength to connect one section to another. Besides, this lawn edging is not particularly easy to bend, so making curved lines will be quite a challenge.
Verdict
If you want to create unforgettable garden accents, metal landscape edging is something you need to invest in. Thanks to its understated design you can divide your landscape into zones without distracting the view. One of the strongest sides of this lawn edging is sturdiness. At the same time, it lacks flexibility, which is important when you need to create curved shapes.

7. Suncast Brown BSE10TG: Natural-looking Edging
Do you need to create a weed barrier in your yard or garden? It's essential around flower beds or garden plots. Thus, you make your yard neater. How do you think, is it an easy task? You are to remove and discard old materials, mark the line and install the border.
Meanwhile, installation of the edging is easy-peasy. It requires no digging. Sections are sharp on the bottom. First, snap the edging together and pound it in the ground. Then touch it up with a hammer or a rubber mallet. Subsequently, this stone won't break. That is to say, artificial: to clarify, it's plastic or resin.
Quite naturally, real stone or granite block would be more stable. However, it's thick and heavy-weight. Stone would take too much room. These perfect edging sections fit small and large flower beds. They come with versatile, 90-degree angle connectors – design perfect straight lines with them.
This material lacks flexibility. Rounded or curved lines and turns are difficult to create. However, it looks natural, like border stone. Your flower bed or yard looks finished with it. Two colors are available: brown and taupe marble. Both of them are pretty attractive. Each of them naturally blends with the environment.
Useful Information
Dimensions: 12" x 1-3/4" x 5-3/4".
In-ground height: 2.5 inches.
Ten sections.
The edging is durable and weather-resistant. Do you live in a northern state? It withstands harsh NJ or MI winter. Your edging remains stable and doesn't move in spring. When frosts are over, only one or two sections might need re-pressing or straightening. So, it lasts for many years, looking as new.
By the way, Suncast is a US-based company. Its location is in Batavia, Illinois. It offers a wide range of products for home and garden. If you need outdoor furniture or hose reels, check their website. I think they produce all their products from plastic, resin or vinyl. But it's worth your attention.
Pros
Great, natural, stone-like look.
Stable;
Weather-resistant.
Easy-to-install.
Durable.
Cons
All sections are of the same shape and pattern.
Not possible to make a tight angle or curved line.
Verdict
Border Stone edging by Suncast is stylish and durable. It looks like natural stone or rock. Brown color would match your red brick house. This edging stands harsh winters, rain, and snow. It lasts for 5-10 years, at least. These sections are not flexible but easy-to-install and stable.

8. Grass Barrier: Flexible Landscape Edging that Does the Job
Do you need to control your grass? Don't pull it out from your beautiful flower beds. Keep it from invading. Weeds might have very deep roots. Some types of warm-season grasses are difficult to control. For example, Bermuda grass is fast-growing. Its roots reach 6 feet in depth.
So, you need a tall edging. Will 10-inch-deep barrier help? Most roots are not far from the surface. So, it's efficient. 6" of Grass Barrier are below the soil. 4 inches are above the ground. It's much taller than other edging materials. It works. Additionally, recycled HDPE material is flexible. It's easy to curve.
This stripe is not sharp. It has a smooth surface. It doesn't retain dirt. Meanwhile, it's quite thin. 12 gauge or 1/10 inch is its thickness. Thin, black edging is not very stylish. But, it's functional.
Meanwhile, you may compromise the look or add decorative borders. Above all, rocks or brick are hardscape elements. Consequently, they make protection from grass and weeds even more efficient. Installation of this barrier is not very easy. Dig a trench around your flower bed. Insert the stripe vertically to the ground. It's a bit wavy. So, don't forget to secure it. Use a rubber mallet, therefore. Backfill the trench with soil. This material is easier to cut and install when it's warm. Lay it flat before cutting pieces with a knife. Avoid sharp edges or fasten them with a staple gun.
Features and Benefits
100% recycled HDPE.
Thickness: 12-gauge.
Length: 30 feet.
Depth: 10 inches (6" below the soil, 4" above it).
It meets ASTM D 4833 standard requirements.
This material is made in the USA. Manufacturing facilities are in Oakman, Alabama. It seems to be the only product in the range of the Grass Barrier manufacturer. Meanwhile, recycling HDPE plastic, the company benefits the environment. Additionally, this material lasts for more than 100 years. It resists puncture. It doesn't rust, withstanding harsh winters.
Pros
flexible;
efficient to keep weeds and grass roots from invading;
long-lasting;
easy-to-curve;
weather-resistant.
Cons
you are to dig a trench to install it;
not decorative material.
Verdict
Grass Barrier is necessary to protect your flower beds from weeds and grasses. HDPE material is durable and flexible. It's black, looking simple, unshowy. But it's efficient and long-lasting.
A Concise Buyer's Guide to Choosing the Top Landscape Edging
Proper landscape edging can help you shape the look of your front lawn or garden. There are so many different kinds of lawn edging and even more ways to use it. If you are not sure which one would be the right for you, here is some advice that might help you make up your mind.
Useful advice
Coil vs. sectional edging. Lawn edging comes either in coils or in sections. Both types of edging for landscaping have their own features that make them suitable for different types of projects. With the help of the coil you can create various curved shapes, circles, ovals, etc. However, such edging might be difficult to handle, especially if you buy a longer coil. Sectional landscape edging is easier to install, since it does not require dealing with a long piece and allows you to shape neat corners.
Installation. Many homeowners are concerned with one common question: how to install landscape edging? In fact, modern products are usually rather easy to install and do not require digging. Some products have spikes attached, while others are supplied with stakes that need to be attached manually.
Materials. The market can offer you plastic, stone, steel, wood or aluminum landscape edging. Plastic is the most popular edging material for flower beds because of its affordability and ease of installation. For large and complicated projects you can get commercial-grade steel landscape edging. Metal edging can also look great in contemporary garden projects, where clean, bold lines and manmade materials prevail. Natural materials, such as wood and stone are a good choice for homeowners who practice sustainable gardening.
Colors and styles. This is the broadest topic to write about. The variety of colors, sizes, and designs are really immense. If you are not sure what to choose, we recommend you to start with simple and unobtrusive landscape edging block systems and methods.
Conclusions and recommendations
It's amazing how something as simple as a thin piece of landscape edging can refurbish your yard and help you implement the most extravagant design ideas. All of that is only possible if you choose the right product. Some of the better landscapes edging options are presented in this review. But you should never limit yourself to only a few options. There are so many wonderful products out there, so go ahead and start exploring!