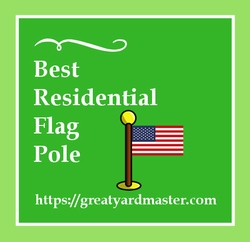 If you want to fly an American flag on your front yard, you will need nothing less than the best residential flag pole for that. Choosing an in-ground flagpole requires some research, although all the products might seem quite identical at a first glance.

See our selection of the best product!


Nevertheless, there are different types of residential flagpoles, each of which has their own pros and cons. There are some important factors that make a difference and affect how a flagpole would perform under particular circumstances. We are going to talk about choice criteria later in the article.

Now, let's review the better residential flagpole kits from American manufacturers that can be found at the largest online retailer in the country.
Top Residential Flag Pole in 2019
1. Ezpole Liberty – The Excellent Flag Pole Kit for Residential Use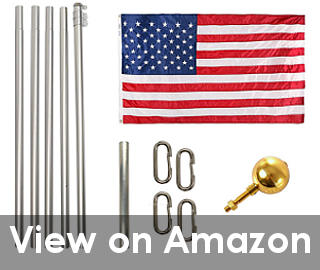 Many telescoping residential flagpoles share a common issue. If not properly secured, sections can collapse and ruin the look of your residential flag installation. The Liberty flagpole from Ezpole offers a great solution to this problem. It features a special locking mechanism that prevents accidental collapses. At the same time, the pole is rather easy to raise and lower. Once you have reached the desired height, you should twist the upper section till the lock button snaps into the gap.
This feature is only present in the Liberty series.
The pole is made of 16-gauge aluminum. It consists of three sections and extends as high as 21 feet up. A nylon flag comes along with the pole. It attaches to the pole by means of two stainless steel clips. The top of the pole is embellished with a gold aluminum ball.
Interesting Benefits
21 feet tall.
Three sections.
Dual-locking system.
Anodized 16-gauge aluminum.
Installation kit.
Pros
This residential flagpole features an anti-collapse dual-locking system, which firmly secures the extended sections in place.
Comes with a flag so you will not need to buy it separately.
The pole is rather lightweight and easy to extend.
Cons
The twist-and-lock mechanism is rather stiff and requires some physical strength to enable.
Verdict
The Ezpole Liberty residential flagpole can become a great part of your landscape. It is rather tall (one foot taller than most other residential flagpoles) and can be easily installed almost anywhere as long as the soil allows for digging a 21-inch deep hole. An installation kit and a flag come in a package.
2. Federal Flags – A Commercial-Grade American Flagpole for Residential Use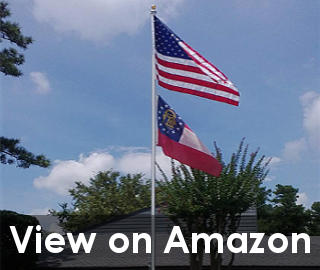 This is a commercial flag pole that can be used on residential sites because of its moderate height (20 feet above the ground). It is made of aluminum with a satin finish. It consists of three retractable sections and has a classic tapered shape. The upper section is topped with a golden ball. This pole features four stainless steel clips that can hold two flags. It is also equipped with a rope to lower flags when needed. This is a much more convenient way of retracting flags than pulling down all the sections to reach to the upper one.
The pole is supplied with all the necessary components and installation hardware. However, a flash collar is not included, neither is a flag.
Useful Facts
Overall height: 22 feet (20 feet above the ground).
Three sections.
Designed with a halyard.
Commercial-grade aluminum.
Installation kit.
Pros
Recommended for both residential and commercial installations.
Includes a special rope (a halyard) to raise and lower a flag when needed without having to retract the lower sections.
Can accommodate two flags at a time.
Cons
Installation instructions are scarce and unclear.
Verdict
Although this Federal Flags pole is rated for commercial use, there is a number of reasons why it can be a great choice for residential applications. It is strong, robust, and built to last. It has a housing for two flags and is equipped with a convenient halyard system to pull them down and raise when needed.
3. Valley Forge – A 20-Foot Flagpole Kit
This kit includes a five-sectional in-ground pole and a standard-sized 3×5 American flag. The pole is made of 16-gauge aluminum. Its base measures 3.4 inches in diameter, which makes it quite steady and reliable. The pole comes in parts and requires assembly. All the hardware and components are provided (a truck with a pulley wheel, a halyard, a cleat, brass hooks, and a foundation sleeve). The kit also includes a high-quality polyester flag, which is more durable and visually appealing than nylon flags. The manufacturer emphasizes that this is an American flag made in America.
Although the pole consists of five sections, it is quite uniform-looking once assembled. A nylon rope is used to raise and lower a flag.
Interesting information
5 sections.
16-gauge aluminum.
Comes with a 3×5 flag.
Features a halyard.
Measures 20 feet in length.
Pros
This is a complete kit that includes all the necessary components for a residential flag installation.
A flag that comes in a kit is made of quality polyester, not cheap nylon as in most other flag kits.
Installation is rather easy and straightforward.
Rather wide base.
Cons
A ground sleeve and clips that hold a flag are made of PVC, which is less durable than aluminum.
Verdict
This is one of the most popular residential flagpole kits. It is rather affordable and includes everything one might need to incorporate a flag installation into the front yard landscape. The pole itself is made of aluminum, while some components are plastic. However, the flag is of an outstanding quality and is proudly made in the USA.
This 20-foot residential flagpole is made of 16-gauge aluminum and features a matte silver finish. It measures 2.5 inches at the base and tapers up slightly to a pointed end topped with a shiny gold ball. The pole looks classy and will blend perfectly into any outdoor ambiance. This is a telescoping pole, which means its sections are connected and slide out one from another.
The pole features two sets of metal clips to allow you to fly two flags at a time. Since the pole is telescoping, there is no need for a halyard.
To install the pole you will need to use a mounting sleeve that comes along and some cement (the exact amount is stated in the instructions). A standard 3×5 nylon flag is included.
Additional Information
Total height: 20 feet.
16-gauge aluminum.
Tapered design.
10-year warranty.
Telescoping.
Pros
This residential flagpole is easy to install. No additional tools or hardware are required.
You will not need to purchase a flag separately.
Provides an option to fly two flags.
Cons
A mounting sleeve is made of PVC.
Verdict
If you are looking for a simple residential flagpole designed for dual-flag installations, this might be the right option for you. It is strong and durable, but thin-looking and elegant. The pole comes with a flag and a complete installation kit. It might be better flagpole for a house located in an area with light winds.
5. Super Tough – A Heavy-Duty Residential Flagpole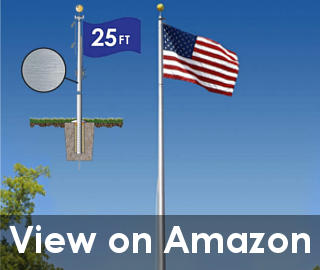 If you need an extra-tall residential flagpole, you might want to take a closer look at this one from Super Tough. This flag pole measures 25 feet in height and can definitely make an impressive front yard installation. It can hold two flags, both of which get attached to a polypropylene halyard by metal snap hooks. At the bottom section of the pole, the external halyard is fastened to the aluminum cleat.
The pole comes in four sections for convenient transportation and installation. All other parts, including a truck with a pulley and a mounting sleeve, as well as all the necessary hardware also come along.
The Super Tough residential flagpole stands for its name since it is made of exceptionally thick 8-gauge aluminum.
Interesting Features
Total height: 25 feet.
8-gauge aluminum.
4 finishes: black, bronze, clear, and satin.
Tapered design.
5-year warranty.
Equipped with a halyard.
Pros
This pole is made of commercial-grade aluminum, which is two times thicker than the material used in most other residential flagpoles.
Looks rather impressive due to its extended length. Suitable for large residential properties.
A convenient mechanism for raising and lowering a flag.
Customers can choose one of the four available finishes to suit individual tastes and match with different landscape designs.
Cons
Due to its thickness and height, this pole is somewhat more difficult to install than other residential flagpoles.
Verdict
The Super Tough residential flag pole is a great solution for those who are looking for an extra-durable installation for large outdoor spaces. It is the tallest pole in our review and it really stands for its name.
If high-quality materials are the first thing you are looking for when choosing a residential flagpole, you should consider this product from Telepole Manufacturing. The company has made a decision to focus on quality and durability. For instance, a base is made of extra-durable 10-gauge aluminum, which is almost twice as thick as the 16-gauge metal used in most other flagpoles. It is safe to say that this residential flagpole is really built to last.
Besides, this pole features five telescoping sections, while most other products of the same length have only four or three sections. That gives you more flexibility when raising or lowering a flag. The locking mechanism is rather simple, but firm and reliable at the same time. There are two stainless steel spring-loaded buttons that hold each section.
Useful Features
20 feet in length.
Five sections.
Double-button locking system.
10-gauge aluminum.
Installation kit.
Pros
Thicker and therefore more durable aluminum base than in most other similar products.
The components are made of aerospace-grade thermoplastic materials (not PVC).
Can fly two flags simultaneously.
Comes with a special tool that helps unlock the buttons to retract the pole. That excludes the necessity of doing it manually with a risk of injuring fingers.
Backed by a 15-year warranty.
Verdict
Superior 1 from Telepole Manufacturing is a residential flagpole that in regards to quality and durability is comparable to commercial-grade poles. It has a reinforced base and an extra-thick ground sleeve to hold a base securely against all kinds of impacts. The pole consists of five sections and can hold two flags.
A Buyer's Guide to Choosing the Top Home Flagpole
If you have not decided which residential flagpole to buy just yet, here are some useful tips that might help you make a decision.
1. Determine how high you want to fly your flag. Most residential flagpoles vary from 20 to 25 feet in length. Some 3 or 4 feet usually go under the ground to ensure a steady and secure installation.
2. If you are not sure where to install a pole in your yard, we recommend that you do it in an open area, some distance away from your house, trees, electricity poles, and other objects.
3. Wind resistance. Although this information is not always indicated in product descriptions, it is very important. We recommend you to request it from the manufacturer, especially if you live in a coastal area with strong winds. It is very important to make sure that a flag pole you are going to buy can resists winds that are typical for your region.
Another useful information and features
1. Figuring out the gauge numbers. Many manufacturers identify the thickness of aluminum the poles are made of in gauge numbers. These numbers do not relate directly to any of the commonly used metric systems, but you can easily convert them into inches or millimeters using a special table, such as this one. Residential flagpoles are usually made of 16, 10 or 8-gauge aluminum. The rule of thumb is the smaller the gauge number the thicker the metal.
2. Telescoping or sectional? Which one is the super flagpole for my yard? Basically, there are two types of residential flagpoles: telescoping poles and that come in separate sections and need to be assembled. Telescoping poles are easy to mount since they don't require assembly. Special locking mechanisms secure sections in extended position. To lower a flag one would need to retract all the sections to reach to the top of the pole. With a 25-foot telescoping aluminum flagpole that might be quite a challenge. Top rated telescoping flagpoles feature dual-locking mechanisms that ensure maximum safety. Sectional poles usually take more effort to install, but they are equipped with halyards, which facilitate effortless raising and lowering of flags.
Additional information on this site.
Conclusions and Recommendations
Of course, we have not covered all the aspects that need to be considered when choosing a residential flagpole. Such things as the ability to fly two flags, color and type of finish, quality of hardware and components, warranty and customer service are also very important. We have covered only standing flag poles and in-ground flagpole kits in our review. If you need a wall-mounted flag pole kit, you might want to check this section on Amazon. All the products listed in our review meet the highest quality standards and can serve their honorary purpose for many years to come. If you are looking for a more affordable metal flagpole for your house, you can check out this One Stop Gardens flagpole.
Video: How to Choose a Flagpole