Are you a farmer or a house owner? You might maintain a large, or several different lawns. Keeping them healthy and green may be a challenging task. It entrenches upon your precious time. No doubts, you would require the best zero turn mower for rough terrain.

See our selection of the best product!

Devices of this kind are not the most compact. They are powerful, intuitive-to-operate, time-saving. Have you got any hills in your estate? In Michigan, it's not a common cause. Anyway, you are to overwhelm the available obstacles, like trees or slight slopes.

What is a well-executed, forcible zero-turn mower for hills? It's speed, flexibility and power matters. So, I review the models I prefer. Anyone can be used for residential heavy-duty applications. The differences exist. Let me highlight them, making their features evident. I hope, it helps you to provide a perfect investment.
5 Best Zero-Turn Mower for Rough Terrain in 2019
Image
Product
#1. Husqvarna Z254


Engine, HP - 26
Cutting Deck, in. - 54
Weight, lbs - 549

Editor's Choice


Check Price


Read Our Review
#2. Ariens 915223


Engine, HP - 23
Cutting Deck, in. - 52
Weight, lbs - 871

Check Price


Read Our Review
#3. Troy-Bilt 50XP


Engine, HP - 24
Cutting Deck, in. - 50
Weight, lbs - 680

Check Price


Read Our Review
#4. Craftsman Z560


Engine, HP - 24
Cutting Deck, in. - 54
Weight, lbs - 700

Check Price


Read Our Review
#5. Hustler Raptor


Engine, HP - 23
Cutting Deck, in. - 52
Weight, lbs - 550

Check Price


Read Our Review
1. Husqvarna Z254: Best, Lightweight Zero Turn Mower for Five Acres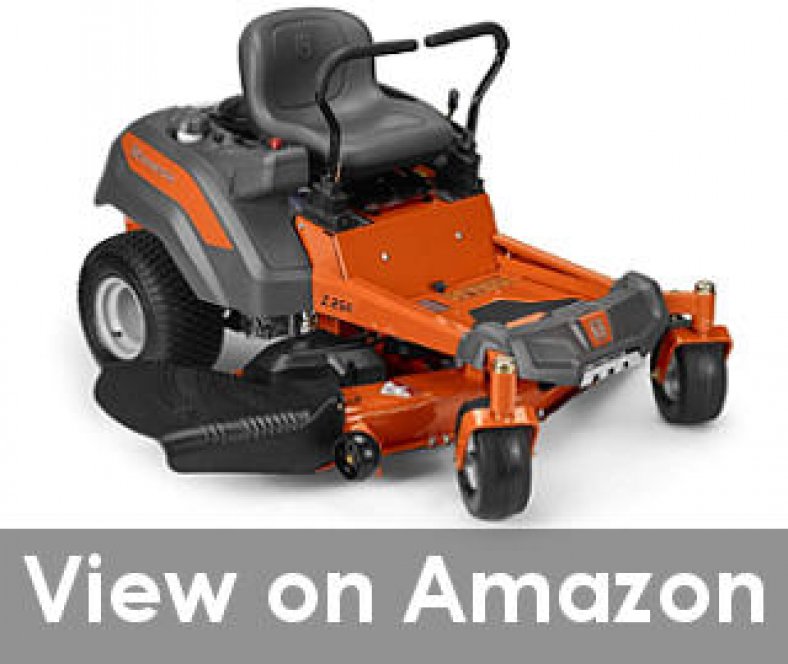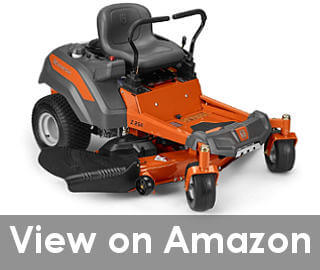 Is the lawns' area you are to maintain so large? Whenever you are a contractor or run your own business, make your hard job easier. You need a fast and yielding lawn mowing vehicle like Husqvarna Z254. It lets you mow about 5 acres of lawn fast (during about an hour), safely, efforts-free.
Why do I rate the unit as the best, strong zero turn mower for overgrown, tall grass? The first reason is its forceful Kohler engine. The 26-horsepower monster with twin cylinders is capacious and productive. Therefore, the mower has outstanding grass cutting strength. Moving with up to 6.5 MPH rapidity, it's fast and efficient.
The vehicle is durable. It's ensured by the high-producing cutting deck. It's produced from reinforces steel. The blades built to last for years. They are simple to lower or raise, using the lever on your left side.
6 positions are provided, allowing the necessary cutting height that is from 1.5" to 4". The revolutionary airflow technology enables lifting the grass in front of the deck. Air induction is engaged. It doesn't let the grass clump or row.
A hydrostatic transmission is just a common option. Quite naturally, the vehicle's maneuverability and performance are advanced. Just turn carefully, as the deck is pretty wide. The safety features are also high. The brake system is automatic. Just move the bar levers and it's engaged or disengaged according to the situation.
Pros
powerful;
heavy-duty;
safe;
durable;
enhanced airflow.
Cons
a headlight to the bumper is to be bought additionally.
Verdict
So, I recommend the zero-turn grass cutter. It's large-yield, easy to operate. This terrific device makes glass cutting process easy, expeditious and pleasant. Is gasoline power source a disadvantage? The fuel is a bit more expensive than diesel. Emissions are a bit higher. However, the engine works smooth, being long-lasting and efficient.
2. Ariens 915223: Best Residential & Commercial Zero Turn Mower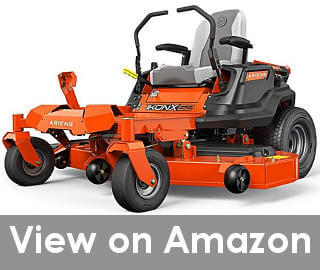 Just look at this grass cutting monster! If you have a big lawn, don't forget to consider investing in this zero turn mower. It's durable, powerful, commercial-style. Being advertised as a residential vehicle, it looks and works as a commercial-grade unit.
FR-series engine by Kawasaki is compact but heavy-duty. 23 HP is sufficient for light and medium-use lawn maintenance applications. Is the engine better than the one by Kohler's? It's well-built, standing out by smooth, quiet, high-performance. The engine ensures perfect, low-vibration operation. Hydrostatic transaxles enable effortless control.
Kohler parts are easier to get, as the manufacturer is USA-based. Manual is available online. Well, I hope, you would not need to have the mower's engine repaired. As to the construction, it's similar. Same vertical, twin cylinders. Gasoline fuel is necessary.
Ground speed is high: up to 7 mph. The reverse is up to 3 mph. A cruise control button lets you select it. Meanwhile, the vehicle's highlight is its thick, reliable cutting deck. Fabricated from 11-gauge steel, it's durable. Tubular frame with welded joints is reliable. A heavy-duty hanging system with 4 fixed points guarantees the unrivaled deck stability and strength.
Working hard in your garden, you would need comfort. Ariens 915223 mower offers you the best opportunities to relax. It is equipped with a soft, padded seat. The back is high, allowing you to rest on it. Even the armrests are available.
What about the cutting ability? 3 perfect blades enable a great cut. Cutting height is up to 4.5 inches, adjustable. 13 options are offered. It's operated by a dial turn.
Pros
powerful;
durable;
efficient;
comfortable;
good towards large lawns.
Cons
the vehicle still requires some assembly.
Final Impression
So, I recommend the lawnmower to you. Just compare its weight with the leading counterparts. You see that it's heavy-duty, durable and super comfortable.
3. Troy-Bilt 50XP: Best Riding Lawn Mower for Rough Terrain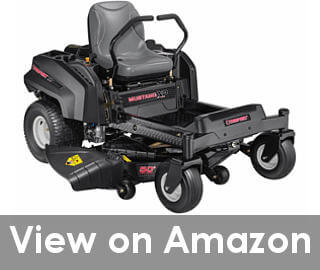 Challenging yards with irregular landscapes are easier to maintain now. How comes? The powerful, high-performance Super Mustang vehicle makes it easier. Grass cutting speed that is about 2.5 acres per hour is not outstanding. However, it's pretty good, saving your precious farmer's or house owner's time.
Meanwhile, the vehicle is promoted as a super-slim. I think it's because of its elegant black design. Troy-Bilt is not much more compact than the competing zero-turn mowers. The 50-inch cutting deck is only a bit more streamlined than the best counterparts available on the market. However, it adds maneuverability and convenience. Turning on a dime is time-saving.
Meanwhile, the unit is durable, heavy-duty. Frame and the front axle are thick and reliable. They are beneficially reinforced. Material and thickness are not specified. Blades are made of steel without fail, look like powder-coated. 8 grass cutting height positions are pretty good. The vehicle is easy to operate by electric power. Just turn the button and move on!
What I like is the engine. Produced by Briggs & Stratton, it's powerful and quiet. Additionally, the lawnmower is awesome in terms of ergonomics. The padded seat offers extra comfort for you. An 18"-high back lets you relax when you are tired by seasonal jobs. Lap-bar steering is safe and intuitive.
Pros
smooth, quiet riding;
powerful operation;
easy to adjust;
compact and maneuverable;
comfortable for the operator.
Cons
longer blades would be desirable;
the deck is not too thick or durable.
General Verdict
Smooth ride and ample legroom make mowing even very comfortable. So, I recommend the vehicle as the best zero turn mower with suspension. The lawnmower is heavy-duty, fast and easy to operate. The vehicle is great by design. It moves smoothly and it does the job.
4. Craftsman Z560: Best Zero Turn Mower for Hilly Terrain
Do you own a large lawn? You would need the speed and convenience for cutting the grass. Fortunately, the riding lawn mower enables it. The vehicle by Craftsman that is specified as Z560 or Z565 is one of the best on the market. It stands out by:
the powerful (24 HP) engine by Briggs and Stratton;
immediate starting system;
360-degree radius;
supportive cushioned seat;
EZT Hydro-gear transmission.
Due to the innovative ReadyStart technology, the lawnmower is fast, suitable for large yard-maintenance jobs. Why the engine by Briggs & Stratton is so popular within the USA and abroad? The business is Wisconsin-based, experienced and reputed.
The Craftsman manufacturer comes from Tennessee. Having a 90-year history, the brand reaches the same, unchallenged quality level. Meanwhile, what about the engine benefits? It comes with a unique muffler, that reduces the sound. The starting system is great. Hassle and strain are eliminated. Quite naturally, no prime or choke is used nowadays.
The engines are initially designed for the best push lawn mowers for rough terrain. However, you are to be in good physical condition to operate a compact device of this kind. It would be suitable for small yards, up to ½ acres. If you invest in a Z560 (riding) lawnmower, it's a different story. Just take a high-back seat and relax. Operating the vehicle is as easy as a piece of cake.
The cutting deck is wide, reinforced. It's made of the thick, stamped steel. Meanwhile, the 54-inch vehicle is maneuverable and efficient. So, you can trim, clip and cut the grass in a single sweep. Cutting in reverse is possible. No pauses are taken.
Pros
easy to use;
powerful;
fast;
sturdy;
comfortable.
Cons
the seat is to be mounted upon delivery;
the mulching kit is to be bought additionally.
Overall Impression
Firstly, work is controlled by two levers. Secondly, the transaxle is low-maintenance. Most importantly, it requires no oiling. So, I recommend the zero-turn mower to homeowners and farmers. To sum up, it's highly maneuverable, ensuring optimal ground clearance. A mulching kit can be supplied on your request. It is optional, but still available.
Lawn maintenance is better when precise control and smooth operation is ensured. The vehicle from Hustler Turf Equipment is heavy-duty and responsive. We know already, that the FR 691 engine by Kawasaki is quiet and powerful.
What are the unit highlights? Steering is performed by 2 levers. When they are out, the brake is automatically engaged. Patented SmoothTrack system provides independent control of each wheel. Therefore, the turning is more precise. Advanced maneuverability is ensured.
The cutting deck is common, 52-inch wide. However, it's durable, welded, made of thick steel. Additionally, the cutting height is foot-operated. So, the adjustment is easy and hands-free. What about comfort? The padded seat is great. It comes with lumbar support and natural ventilation.
Pros
heavy-duty deck;
precise control;
foot-operated grass cutting height adjustment;
high-performance;
maneuverable.
Cons
armrest set is not included.
General Verdict
I think the back is not too high. Armrests, as well as the mulch kit, are optional. They are to be ordered additionally. So, I recommend the lawnmower for multiple residential tasks completing. It's powerful, simple by design, easy to control.
Buyers' Guide
Have you got a large lawn? Consequently, it is to be properly watered and maintained. Grass cutting or mowing is among the regular tasks. If your yard and garden are about 5-10 acres altogether, the best reel mower for uneven terrain would be not sufficient. To clarify, this device is small, manually-powered. It is equipped with 2 small wheels.
Quite naturally, it has some benefits. As no engine is engaged, reel mowers are quiet and environmentally-friendly. The devices are safe and affordable. Scissors-like cutting method is applied. It's better for the grass. Your lawn is healthier. However, the mowers are not suitable for large lawns and tall, thick grass.
A push lawn mower is a bit larger. A device of this kind is equipped with 2 wheels and 5 blades. However, it's also manually-operated. Cutting grass, using them is time-consuming and exhausting. Additionally, the grass is not collected. It remains on the lawn, making some mess.
Do Zero Turn Mowers Work Well on Hills?
Riding mowers are the largest and the most powerful of residential vehicles. Traditional ones are heavy-duty, sufficient for the large lawn maintenance. However, they are difficult to maneuver and dangerous. Therefore, about 230,500 lawn-mower-related injuries happen every year. It was discovered by the American Academy of Pediatrics in 2004. The reason is that the motor is heavy and located at the back of the vehicle.
I guess you know already what type of mower is best for hills. A zero-turn mower is easy to maneuver. It overcomes various obstacles and tight spots easily. Due to the zero-degree turning radius, it provides an even cut and perfect view for the operator.
Additionally, zero-turn devices are:
powerful;
fast;
maneuverable;
durable.
You don't need to turn back to trim or re-mow the grass. A single pass is enough. Difficult areas around bushes or flower beds are easily and perfectly maintained. As a result, the mower's design allows it. As the cutting desk is located in front of the vehicle, it enables precise mowing.
Who Makes the Best Residential Zero Turn Mower?
A lawnmower of this size and quality is a significant investment. Selecting it, you are to consider several major factors. The brand is a key aspect. Therefore, I would recommend you not to focus on the cost. Prefer reliable manufacturers. That is time-proven and reputed.
The brands listed above are well-known all over the world. They guarantee the vehicle's reliability and top quality. For example, Husqvarna MZ61 vs Bad Boy ZT Elite is more durable and long-lasting. Iron spindles are more reliable than aluminum ones. Foot-operated deck height is easier and faster.
The Basic Features
A 3-year warranty is commonly offered to homeowners. Commercial application terms are to be discussed. Additionally, consider:
the engine size and power;
transmission and operation type;
comfort;
deck width;
weight.
Consider the obstacles and landscape type. Do you wonder, what size mower do you need for 1 acre? A powerful vehicle is preferable both for 1, 5 or 10 acres. Meanwhile, a wider deck is better for large lawns. A 50-inch mower is easier to maneuver and turn. A vehicle that is 42-inches wide or narrower would not handle even the moderate slopes.
How to Make a Zero Turn Mower Ride Smoother?
Operating a lawnmower is easy. Just push or pull the bars, turn the dial or press the pedals and move on. Don't forget to study the manual. Smooth riding is ensured by a hydrostatic transmission. Advanced steering features are beneficial. When every wheel moves independently, it makes mowing precise.
Conclusion
The best zero-turn mower for rough terrain is Husqvarna 254. It's compact but powerful, safe and fast. The vehicle by Ariens is heavy-duty and user-friendly. Super Mustang by Troy-Bilt is super-slim, quiet and smooth-riding.
Here you can read more information!