Greatyardmaster is reader-supported. When you buy through links on our site, we may earn an affiliate commission.
Do you like smoked meat and fish? It can enrich any family event or beach party. The food is so tender and delicious! Do you usually avoid cooking? Why? Because of the fuel charges? But, how much propane does a smoker use? Let's check it.
Do Propane Smokers Work Well?
A propane smoker looks like a safe or a metal locker. It's compact and simple. It features:
a gas burner at the bottom;
a propane tank;
a pan with water;
a smoking chamber;
a chimney on the top.
How to use a propane smoker? The operation is intuitive. You just need to connect the tank and open the valve. Refilling the tank may require some skills and safety measures. So, you are to:
Prepare the food and the smoker.
Add wood flavoring.
Manage the airflow.
Add some water to the pan.
Turn the smoker on.
Cook the food.
Wooden chips are added on the bottom for the flavor. Now, check the temperature and the food doneness. Is the meat ready? It's time to serve it.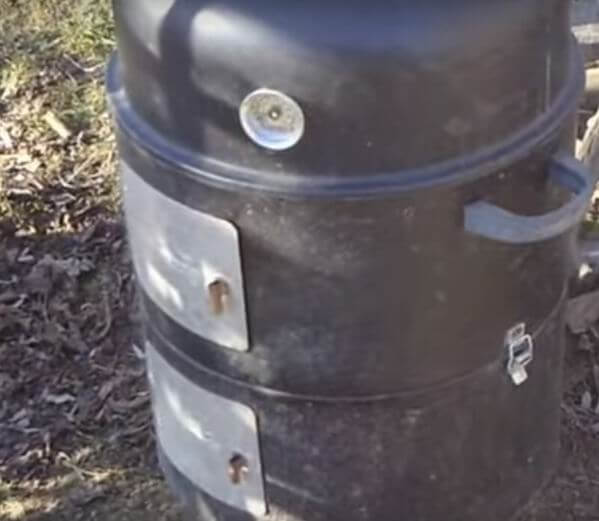 Do you think, smoking food is time-consuming? Select a hot smoking method. It's:
Hot cooking temperatures kill all dangerous bacteria. Risk of listeria contamination and botulism is eliminated. So, this method can be applied to any kind of meat, including:
beef;
pork;
lamb;
poultry.
It's delicious and savory. But is the taste of cold smoked food better?
See interesting information about best fish smokers!
Smoking Time and Temperature
The difference in time and temperatures is great.
| Smoking Method | Temperature Range, °F | Time | Distance, in |
| --- | --- | --- | --- |
| Hot | 165-275 | 20 min – 2 hours | 5-10 |
| Cold | 90-120 | 4-6 hours | 20-30 |
In hot smokers, food is located just above the heat sources, on the racks. The cold smoking method implies using pipes to connect the chamber and the fire. It commonly applied to fish smoking. These techniques let useful fats and moisture remain. The fish texture is great. The flavor is deep and strong.
However, it can be dangerous for your health. The other foods can be smoked quite safely, for example:
nuts;
vegetables;
cheese;
boiled eggs.
So, what is the best vertical propane smoker? Which devices should we select? Which smokers are fast and safe?
Pros and Cons of Electric vs Propane Smokers
Are you concerned about the time? A propane smoker is the fastest. These devices are:
portable;
flexible;
easy to use and maintain.
Ease of use is not a problem. You can select a gas smoker with thermostat and the other useful features. Meanwhile, these devices need virtually no warming up. They are fast-saving.
The smokers come with replaceable and refillable tanks. They are compact and weather-resistant. Therefore, these devices are the best for outdoor use. What about safety? Quite naturally, propane vehicles emit much fewer pollutants, than the gasoline ones. It's a green choice.
However, if you are concerned about safety, think about electric smokers. They are:
compact;
small;
lightweight.
Electric smokers are preferable for use at home. No emissions. No ash. Cleaning is not complicated. But what if you want to smoke food in your backyard?
Do Propane Tanks Leak Over Time?
Actually, they should not. If the tanks are stored and maintained properly. A dry, well-ventilated area is necessary. Avoid any shocks and overcooling.
If any leak happens, it's attended by:
a hissing sound;
a strong smell.
So, the valve is to be turned off and checked regularly. Additionally, if the tank is more than 10 years old, it is to be inspected by the professionals. I would say the same about the tank refilling.
How to Season a Propane Smoker?
Propane smoker is an all-weather device. It's weather-resistant. Quite naturally, rain can impact its performance. But the use is still safe.
Meanwhile, seasoning is necessary, it's commonly performed at once after you purchase the smoker. It's recommended for:
strengthening the metal;
the surface cleaning up;
extending the smoker life;
rust prevention.
So, just clean the surfaces with water and dish soap. Let it dry or wipe it out. Turn the device on and let it run for about 3 hours. The temperature is to be as high as possible. Now the device is clean and seasoned. We can start cooking. Are you still concerned about fuel consumption? Do you wonder, how long does a 14 oz propane tank last? Let's try to estimate it.
How Long Does a Propane Tank Last in an RV?
It depends on the tank capacity and its BTU rating. The smoker size and temperature are also important.

| Tank Capacity, oz | BTU rating of the tank | Burning time, hours |
| --- | --- | --- |
| 15 | 15,400 | 18 |
| 15 | 60,000 | 60 |
| 20 | 15,400 | 28 |
| 20 | 60,000 | 100 |
It doesn't matter if you use the tank at home or at your RV. Meanwhile, before going camping, add all appliances' consumption, that is:
an oven;
a water heater;
a refrigerator;
a furnace.
Final Verdict
So, how many hours does a 20-pound propane tank last? This value is easy to calculate. Just don't forget that every appliance has its own BTU rating, and the tank does too. Divide the smoker's rating to the tank's one. Multiply it to the tank volume. A common smoker's rating is about 15,000 BTUs. So, these devices are cost-efficient. They are portable and easy to use. Propane smokers are just the best for outdoor use and camping!
Video Review: How a Vertical Propane Smoker Works