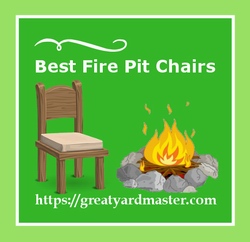 Sitting around the fire pit is really charming! It may be a summer night or a cool, late spring day. Anyway, you'll remember these romantic gatherings. Just some warmth, stars overhead, a fine bunch of friends…That's all we need. The best fire pit chairs are still required.
They are to be comfortable, sturdy and intuitive to assemble. So, what is the finest outdoor firepit chair? Lightweight and foldable or massive and stable? Which chair is the safest to place near your propane fire table? Is wood better than rattan or plastic? What is the essential weight capacity? Quite naturally, you'll select the color and design you like. However, let me highlight 5 stylish outdoor chairs. They are ergonomically-designed, sturdy and durable.
Top Fire Pit Chairs in 2019
1. PHI Villa Rattan Chairs – Excellent Fire Pit Seating Set for a Couple
If you've got a fire pit, a seating area is essential. But how to arrange it? Install the rough wooden fire pit benches with backs? Build a permanent framework from concrete blocks? It's not always acceptable. The lightweight, but heavy-duty outdoor chairs are to be at hand.
The fire pit chairs, produced by Phi Villa are compact and foldable. These great pieces of furniture are initially intended to a bistro application, indoors or outside. Meanwhile, they completely meet summer house needs. The outdoor chairs weigh only about 13 pounds each. The frame is only 7 inches thick when they are folded up.
Additional Information
So, you easily transport the outdoor chairs during a trip. You can take them along to a barbeque. Quite naturally, the furniture is intuitive to assemble and install. The chairs find their place in your garden, backyard, or in the balcony. Meanwhile, they are attractive and comfortable. The outdoor chairs add a tropical touch to your landscape design.
Durability is one of the basic set's benefits. The frame is made of the steel tubes. It's powder-coated and therefore, scratch-resistant and rust-proof. 5 years of warranty against decay and rust is a pretty good period. Just don't place the outdoor chair legs on the ground or the sandy pathways. Hard-Surface pavement is essential.
The seating and back surfaces look like rattan. However, they are made of textilene material. What is it? A PE resin fabric, actually. So, the surface is beneficially easy to clean, damp resistant. I don't think you leave the fire pit chairs in the weather when it's raining. However, they are long-lasting and sturdy.
Pros
durable;
sturdy;
compact and lightweight;
foldable;
comfortable.
Cons
a bit smaller than you imagine;
no adjustable reclining.
Conclusion
The pair of fire pit chairs by PHI Villa are durable and weather-proof. They are perfectly foldable, easy to store and install. The outdoor chairs come pre-assembled, ready to use. Additionally, they are stylish, looking exotic and relaxing. So, I think, this set includes the finest chairs for around a fire pit table. View here! 

2. Keter Rio – A Great Set for Your Fire Pit Sitting Area
The set includes an end table and two wide, comfortable outdoor chairs. Well, the table is too small. It can serve you as a footstool only. However, if you've got a propane fire pit table, it's not a problem. The pieces of furniture are really reliable and stable.
They have not side rails. So, the outdoor chairs are great to relax, meeting stout people needs. The weight capacity is standard: 250 lbs. However, the chairs are still very cozy. The tilt back feature is beneficial. So, you can recline a bit while seating around the fire pit.
The frame is made of metal tubes. However, the legs aren't sharp but curved on the bottom. It makes outdoor chairs more stable. The frame is definitely rust-proof, made of steel. It's sleek and sturdy, simple by design.
Features and Specifications
The cover is pretty thick. Quite naturally, you would need small cushions or armchair pads, to provide comfort. Is the propylene resin material so good? It's durable, weather-proof, easy to maintain. The surface is waterproof and heat-resistant. It's UV-stabilized, getting warm under the direct sunshine. No fading or thermal shock happens.
However, if you want to sunbathe, you would need another material. Interlay something natural and skin-friendly. Maybe, cotton fabric or a towel is suitable?
The outdoor chairs look stylish and attractive. The cover is like woven rattan. But, cleaning is much easier. Just remove the dirt with a wet sponge. The assembly is not complicated, anyway. Put the parts together, following the detailed instructions. Unfortunately, upon the assembly, the wide fire pit chairs are nor foldable, neither stackable.
Pros
wide and cozy;
durable;
all-weather;
stylish.
Cons
the chairs sit low (short legs).
Conclusion
The garden furniture Rio set by Keter is comfortable and cozy. It consists of 2 wide, stable, tilt-back outdoor chairs and a miniature table. The furniture is weather-proof, durable, covered by 2-year warranty. It's easy to assemble, recommended for intimate conversations.

3. Lakeland Mills – Wooden Outdoor Chairs for Around Fire Pit
If you've got a fire pit, powered by split wood, it's not the superior choice. The furniture and the objects are to be located a bit far from the flame. The super propane fire pit tables can be surrounded by wooden outdoor chairs. The fuel is pretty safe, easy to use and clean. Meanwhile, the cedar furniture provides the charming smell of natural wood.
What is white cedar? This natural material is beneficially weather-resistant. It withstands sun, rain, decay, rot and even heats. Cedar lumber is durable, stable and comparatively lightweight. Quite naturally, it's much heavier than PE or polypropylene. But it's worth it.
Interesting information
What about the insects? Any termites don't damage the outdoor chairs. All insects, including mosquitoes, don't tolerate the cedar scent. White cedar trees are growing in some New England states. The furniture is proudly crafted in the USA. Located in Edmore, MI, Lakeland Mills Company is green and experienced.
So, what about the outdoor chair? Yes, it's only one in the parcel. Would you need it to be softer? Maybe yes. But it's really comfortable, due to the curved seat. It's sturdy and long-lasting. A 1-year manufacturer warranty is provided. Meanwhile, you can place the outdoor chair directly on the grass. It won't get stuck in the sand.
The surface is perfectly polished. Quite naturally, you can stain it. Just select the suitable wood protectant and a sealant. Follow the manufacturer instructions. So, if you like the rustic style, the wood fire pit chairs would become your favorite furniture. The assembly takes some time, anyway. A drill and a wrench would be necessary.
Pros
great cedar smell;
sturdy;
rustic design;
comfortable;
made in the USA.
Cons
the surface develops a patina in several years.
Conclusion
The lounge, outdoor chair by Lakeland Mills is made of natural, cedar timber. It's polished, smooth, but unfinished. The piece of furniture is really durable, weather-proof and sturdy. Additionally, it's comfortable and pleasant to the eye.

The foldable and stackable outdoor chairs are often required. Parties, wedding, and gathering are the most festive occasions. However, you can place the fire pit chairs to your trailer or cargo area. They are perfectly lightweight (about 11 lbs. each) and compact. Just fold them up and carry or transport.
Are the PE outdoor chairs flimsy? Of course, not. The frame is made of strong steel. It's black and rust-resistant. So, I guess, the surface is protected, powder-coated. The back and seat are weather-resistant, as well. They are made of the PE rattan. This perfect material is long-lasting and weather-resistant.
It perfectly withstands rain, wind, and sunshine. The outdoor chairs tolerate heat or high temperature quite well. Therefore, they can stand anywhere in your garden or patio. The furniture will complement your charming garden sitting area with a fire pit.
The outdoor chairs are quite comfortable. They feature reliable arm-rests and supports. The seat height (from the floor) is 24". This way, it's comfortable to sit at a regular garden table. Additionally, the outdoor chairs are stylish and versatile by design.
Features and Specifications
One more benefit. The furniture is pre-assembled. It's fast to fold up and place, compact to store. The small cushions are included. The only thing to check is the locking unit. Otherwise, it can unlock when you move the furniture. It may start folding up on the way. You may even need to buy a tie to solve the issue.
Pros
foldable and stackable;
lightweight;
sturdy;
weather-resistant;
modern look.
Cons
the outdoor chairs fold too easily;
not the best furniture to relax.
Conclusion
The portable, outdoor chairs by Tangkula are lightweight. They are convenient to fold up, carry and store. Meanwhile, the furniture is comfortable, sturdy, long-lasting and stylish by design.

5. Giantex 4-Pack Set – Lightweight, Folding Fire Pit Chairs
If you prefer sitting around the flame in winter, it's not your choice. The outdoor chairs are definitely intended to warm season. The seats and backs are made of breathable material. Textilene is stretchable, thin and lightweight. Meanwhile, it's strong and durable.
The outdoor chairs suit hot, summer weather. They remain cool, withstanding the heat pretty good. With them, your in-ground fire pit with seating area remains completely safe.
Interesting Facts
As the set from Tangkula, the fire pit chairs are beneficially foldable. Being folded down, they are low-profile, flat, space-saving. Therefore, the outdoor chairs are recommended to travelers. They can find the place on your lawn, in the patio or garden. Do you like the design? It's pretty good, modern, but a bit simple.
The metal legs are thin. So, they are to be placed on a solid surface. The frames are strong and durable. Only the bolts may start rusting in several months. So, are the fire pit chairs comfortable? Well, they are pretty good on summer trips. The back is tilted; the armrests are available.
Meanwhile, the outdoor chairs are not oversized. They may not suit stout people, weighing more than 200 or 250 lbs. So, I would call them the best chairs for young and slim travelers.
Pros
breathable;
lightweight;
easy to carry;
heavy-duty.
Cons
the bolts may rust;
not the best for big people.
Conclusion
The outdoor chairs by Giantex are lightweight, foldable. They are made of the breathable textilene. The metal frame is strong and reliable. So, the 4 pcs. set is preferable at summer heat and country trips.
Buyers' Guide
Do you live in a private house or just come to your summer cottage? In this case, a fireplace can become a focal gathering point of your family and friends. Some comfort and relaxation are essential by the end of the day.
So, you would need some outdoor chairs to throw them around the fire. They create healthy or romantic atmosphere is your patio. The garden furniture helps you to get a sniff of fresh air. It's a perfect ground environment for a small party or an intimate conversation.
So what are the good fire pit chairs? They are to be:
durable;
strong;
comfortable;
weather-resistant;
maintenance-free.
Low-sitting furniture is acceptable in the garden. It's comfortable to sit down and relax. However, you won't like to leave this place. It would require some efforts. And besides, why?
Meanwhile, the outdoor chairs may be simple. Do you match your propane fire pit and chairs? Then, you might prefer the portable furniture. Foldable and stackable fire pit chairs are preferable for trips, camping, and BBQs.
Now, you can focus on your landscape design and the materials. It's the matter of your taste, needs and family budget.
Fire Pit Design Ideas
Casting the pathways and positioning the fire pit, consider the safety. Burning wood may be dangerous. As to the propane, the tank valve integrity is primary. According to NFPA, it is to be properly tested before use.
Safety
This fuel is much safer than wood. So, 10-feet distance to the buildings and structures is sufficient. The outdoor chairs can be placed closer to the flame. No restrictions are imposed.
So, do you consider the patio designs with the fire pit? The rustic style might be your favorite. It's so natural and elegant. You may prefer one of the following options:
modern;
Scandinavian;
shabby-chic;
minimalistic.
Anyway, the garden furniture is to match your landscape design. It is to fit the configuration. Par example, multiple fire pit chairs are quite good for the limited space backyards or balconies.
Appropriate outdoor materials
Meanwhile, the fire pit ideas for outdoor living spaces are based on suitable materials.
Wooden outdoor chairs are solid, charming and natural. They are classic and impact-friendly. However, timber is not the best to resist moisture and summer heat.
Natural rattan is warm and cozy. However, it's too sensitive for outdoor use.
Metal is the best material of the outdoor chair frames. It's really strong, long-lasting and hard-wearing. Some rusting is still possible.
As to the PE or PP plastic, it's lightweight and easy to clean. Nowadays, it can look exactly the same, as natural rattan. Your textilene outdoor chairs may look exotic and luxurious. Additionally, these materials are perfectly heat-resistant.
General Verdict
The better fire pit chairs overall are the ones by Phi Villa. They are foldable, stylish and durable. The wooden outdoor chairs by Lakeland Mills are natural, rustic by design. Their cedar smell is amazing! The Rio fire pit chairs by Keter are the most comfortable. They are designed for relaxation.