Greatyardmaster is reader-supported. When you buy through links on our site, we may earn an affiliate commission.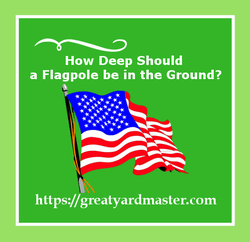 It's pleasant to think about a great holiday coming soon. If there is no occasion to display the honorable American flag yet, take heart. Now you have some time to install a new flagpole. You are to ground it properly to ensure complete construction security and durability. How deep should a flagpole be in the ground? It depends on several factors. A flagpole and your house height matters, as well as your climate and local rules. So, let's discuss important installation and security issues. Understanding these finer points, you prevent your flagpole from breaking and binding. It should resist any outdoor conditions and high winds.
How Do You Install a Flagpole in the Ground?
You shouldn't make substantial improvements in your yard very often. A good, reliable flagpole lasts for many years. A structure that comes with a long warranty might serve to your grandchildren. It's durable and attractive.
Thus, there are several reasons to install a new flagpole. If you have recently moved to a new house, you'd prefer to change everything. Unfortunately, natural disasters also happen. For example, flooding was ongoing by the end of May in Michigan, near Midland. It caused damages that require repair.
So, you might have to install your best residential flag pole now. Therefore, you are to follow several essential steps.
Buy and prepare the necessary materials and tools.
Select a suitable location.
Dig a hole.
Create reliable foundation.
Set the sleeve.
Assemble the flagpole and fasten it.
Will you need a building permit to install a flagpole in your yard? According to the International Building Code (Chapter 105.1), you might have to obtain it. As soon as your structure or flagpole exceeds 15 feet in height, it's necessary.
See interesting information about best residential flag pole!
How Deep Should a Flagpole Be Buried?
Do you feel like having no reason to visit a party shore now? You can cook something delicious and make a barbecue any weekend. Only your good mood and some food are necessary. Meanwhile, before installing a pole, visit your local hardware store. Don't forget to wear a mask in any public space.
You'll need some gravel, concrete and clean river sand to secure the flagpole. How deep is the hole? As soon as I know how tall should my flagpole be, it's easy to calculate. Your climate also matters. Coastal areas may survive high winds and hurricanes.
| Your House Type | Pole's Height, ft. | Pole Depth, ft. |
| --- | --- | --- |
| Single-story | 18-22 | 2 |
| Two-story | 23-28 | 2.5 |
| Three-story | 28-30 | 3 |
The hole for the flagpole foundation should be 4-6 times deeper than its butt diameter. In a windy region, or if the ground in your area is sandy, dig a larger hole. Commonly, a flagpole comes with a plastic ground sleeve. Add 6" to its length to accommodate some gravel on the bottom.
Do I Need to Ground a Flagpole?
Your structure is to be sturdy and wind-resistant. So you are to prepare a hole that is large enough in diameter and depth. The soil should drain well. 6 inches of gravel or a bit more enable it. Additionally, 6 inches of concrete create a reliable foundation.
How long should concrete cure for a flagpole? Let it set for 24 hours. Then it would be possible to insert a pole into the sleeve. Mix 3 parts of sand, 1 part of top-quality cement and 3 parts of gravel or stone. Quite naturally, you'll need also some tools. They include a standard shovel, level and a mixing tray.
As to the pole, steel ground spike, anchor belts and the soil itself protect it from lightning. Initially, you are to find a suitable location for your flagpole. It might be a daunting task. The structure should be far enough from:
overhead wires;
your house;
trees;
fences and stands;
pipes, TV and telephone cables.
Don't forget to check your local zoning code. Thus, in Lansing that is the capital of Michigan, hedge height should not exceed 3 feet. Flagpole height and distance to the nearest buildings may also differ.
How to Hang a Flag on a Pole?
Materials also matter. The table above refers to aluminum flagpoles. Fiberglass structures are more wind-resistant and lightweight. They are perfectly weather-proof. It would be easier and faster to ground a structure of this kind. Nevertheless, don't install a flagpole in windy conditions.
The same concerns the American flag. Raise it only when the weather is good. What is the best rope for a flagpole? It contains durable materials like nylon or polyester. Top-quality US flags also consist of polyester or nylon fabrics. Cotton is not common, as it's prone to shrinkage and fading. Sewn stripes and embroidery are optional.
So, when the pole is in its location, you can raise the flag. But you'll still have to:
assemble the pole;
attach its ornaments, halyards and trucks;
add the flash collar on the bottom;
lift the pole, insert it to the ground sleeve and secure it.
To tighten the sections, twist them. Cover the edges by silicone caulk to create a waterproof seal. It's necessary to seal the ground sleeve too. Fill it with a compound that keeps water out. Now, install the bolts and tighten them.
Final Words
The next occasion to proudly display the American flag is in the middle of September. Constitution Day is a great national holiday. So, you have some time to install your flagpole now. Do it properly to ensure its safety and durability. Don't forget about illumination. Direct light to make the flag visible. The foundation is to be deep and reliable enough. Let your yard and all structures inside it be safe and beautiful. In this case, nothing, even high winds or a flood don't overshadow your festivity.