Looking for the best outdoor folding chairs to bring along on a picnic in a park or to arrange a temporary sitting area on a patio? We can help you with that! In this article, we are going to discuss top rated folding chairs for any occasion.
See our selection of the best product!
As you have probably found out, there are several different kinds of outdoor folding chairs available online and in big box stores. Some of them are really comfortable, designed for continuous lounging and relaxation. Others are cheap, lightweight, compact-sized and easy to handle in any place at any time. Whether you need outdoor sports chairs or folding chairs for dining, we are here to guide you through the hundreds of options and make the right choice.
Top Outdoor Folding Chairs in 2019
The Kijaro portable outdoor folding chair is a very convenient solution to bring along on a camping trip, a sports event, or a picnic. It folds and unfolds effortlessly, while the dual lock system allows it to be easily secured in both positions. This is an extra large model of Kijaro Dual Lock series, which means it can hold more weight and accommodate people with a large build.
Additional accessories
Dual lock system.
Steel frame.
Polyester seat.
Two beverage holders and a side pocket.
Carrying case.
Weight capacity: 400 pounds.
Item weight: 12.4 pounds.
Comes in 8 colors.
The product features a steel frame and a seat made of rip-resistant diamond-weave polyester. The back has an integrated mesh that provides ventilation and enhanced comfort even on the hottest days. The seat is tilted backward to prevent sagging and help you maintain a correct posture.
This outdoor folding chair is equipped with two beverage holders and a zipped pocket. It features a carrying strap that enables easy transportation. Besides, it is supplied in a branded textile case to protect it from dust and sun exposure.
Pros
Extra wide seat for the comfort of people of a large build.
Ventilated back.
Anti-sagging sitting position.
Has a greater weight capacity than standard outdoor folding chairs.
Locks in folded and unfolded positions to ensure comfortable carrying and safe sitting.
Cons
Quite heavy.
A polyester seat requires wet cleaning.
Verdict
The Kijaro extra large folding chair can provide comfortable sitting during leisure time and various outdoor activities. Thanks to the dual lock system, it opens and collapses very easily. A breathable back and an anti-sagging seat provide unparalleled comfort even during continuous sitting. Looking for better folding chairs for soccer? You might as well stock up on some regular sized Kijaro Dual Lock chairs.
2. STRONGBACK Guru – Excellent Camping Chair for Bad Back
Standard folding camp chairs are often rather uncomfortable. They are tolerable to sit in for a short period of time, but often cause numbness and back pain if used continuously. Strongback addresses this issue by offering outdoor folding chairs that are as compact and easy to use as regular ones but are much more comfortable and posture-friendly.
The main feature that distinguishes Strongback products from the competitors is the ergonomic design of the back part. It has integrated lumbar support which helps you keep your back in a natural position and prevents you from slouching forward. Besides, the seat is inclined backward so that you can lean back against a lumbar support area and secure your body in a comfortable position.
Interesting and useful features
Lumbar support.
Steel frame.
Polyester seat.
Two cup holders.
Carrying bag.
Holds up to 300 pounds.
Item weight: 10.5 pounds.
This model comes in two sizes: for tall people and for people with a smaller build (the Guru version that is specified in this review). This unique feature can hardly be found at other manufacturers. The chair is supplied in a complementary bag with a shoulder strap for convenient storage and carrying.
Pros
Ergonomic design helps maintain a correct posture and avoid back pain after continuous sitting.
Durable tear-resistant fabric.
Easy to set up and collapse.
Designed with convenient storage and transportation in mind.
Stable reinforced frame prevents the folding chair from wobbling and tipping over.
Cons
Polyester fabric is not stain-proof, so you will have to wash it with a detergent time after time.
Verdict
The Strongback Guru is probably the most comfortable folding chair that can be found. This might be a great choice for people who spend a lot of time sitting outdoors. Whether you are going on a camping trip or to a sports event or just lounging in a park – this outdoor folding chair can become an excellent companion. It is ergonomic and snug. Besides, it gets exceptionally compact once folded and can be carried in a bag.
This is not exactly a camping chair, but rather a lounging chair for a terrace, a patio or a pool area. It is rather heavy and not appropriate for trips and outdoor events. Instead, it will work perfectly in residential and commercial outdoor arrangements. The chair is rather low, more like in a beach chair, but still rather comfortable to sit in.
Features and benefits
Made of poly lumber.
Two beverage holders and a cell phone holder.
Requires assembly.
Available in 16 colors.
Made in the USA.
Recyclable.
This outdoor folding chair is made of poly lumber. This material is rather strong, durable and easy to maintain. It comes partially pre-assembled, but some minor assembly is still required. If properly assembled, it appears to be rather sturdy and stable. It can withstand rough weather conditions, but we recommend to keep it indoors during winter to avoid untimely deterioration. This folding chair is guaranteed to serve a lifetime in residential settings and five years under commercial use.
The ECCB outdoor folding chair is equipped with two beverage holders: one for a can and another for a wine glass. Besides, there is a cell phone holder near one of the armrests.
Pros
Large sitting area.
Tilted back for comfortable lounging.
Features a wine glass holder.
Sturdy and durable.
Easy to clean.
Backed by a limited lifetime warranty.
Cons
Suitable only for on-site use, since it is too bulky and heavy to carry around.
Verdict
The ECCB outdoor folding chair might be a great solution for commercial and residential outdoor arrangements. Made of premium-quality poly lumber, it is sturdy, durable and attractive-looking. It is rather heavy and not suitable for camping trips, but rather decent in all other aspects.
4. Polar Aurora Zero Gravity – Outdoor Folding Lawn Chairs with Attached Side Table
Zero gravity chairs are winning the hearts and minds of homeowners all over the world. So if you are pursuing the ultimate relaxing experience, you should take a closer look at this set of outdoor folding chairs. They can be locked in several comfortable positions, including a gravity-free position (the one that provides the ultimate relaxation and pressure relief).
The products are manufactured of rugged outdoor-grade materials. A metal frame supports a textile seat. Textline is an extra-durable webbed polyester material with PVC coating. It is breathable, moisture-resistant, fade-proof and dirt-repelling. Stretchy binds that attach the fabric to the frame, allow the seat to adjust to any body weight within the 300- pound limit.
Interesting benefits
Two folding chairs in a set.
Available in 5 colors.
Item weight: 17 pounds.
Steel frame.
Textile seat.
These chairs are equipped with a detachable headrest that can also be used as a lumbar support cushion. They also feature a miniature trey that can accommodate a beverage and other small things you might want to keep at hand while relaxing outdoors.
Pros
Extra-durable holds up to 300 pounds of weight.
Water-, stain- and UV-resistant.
Easy to maintain; the fabric is not prone to soiling.
A zero-gravity position is available.
Stable frame.
Verdict
Polar Aurora outdoor folding chairs are great for patio arrangements and occasional use during camping trips. They are rather compact when folded, but quite heavy, so it might not be always convenient to bring them along. Durable materials and multiple sitting positions make them just great for year-round outdoor relaxation.
5. World Outdoor Products – A Tall Folding Directors Chair with Side Table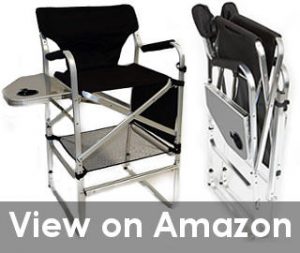 Some outdoor events require sitting up high. Hairstylists or makeup artists usually need tall folding chairs to accommodate their clients while working at festivals or some other offsite events. This item might serve the purpose just perfectly.
Additional accessories
Anodized aluminum frame.
Polyester seat.
Side tray with a cup holder.
Side organizer.
Bottom shelf.
Weighs 13 pounds.
Weight capacity: 275 pounds.
The World Outdoor Products folding chair is constructed of a lightweight but sturdy anodized aluminum frame and an industrial-grade polyester seat. It is additionally equipped with a small side tray with an integrated cup holder and a dual-pocket textile organizer. Soft armrests and a footrest ensure comfortable sitting, while a bottom mesh shelf provides ample space to store all the necessary materials and tools.
Pros
Sturdy construction.
Made of weatherproof materials.
Designed for professional use.
Ample storage space.
Comfortable to sit in.
Verdict
This outdoor folding chair with a side table is designed for professional use. It ensures comfortable sitting and convenient organization of items that need to be kept close at hand. Because of the high-raised seat, the chair might be somewhat unstable, so you will have to avoid leaning forward as much as possible.
6. Lawn Chair USA – Lightweight Portable Lawn Chairs
This is a classic outdoor folding chair, favored by so many American households. The old-fashioned design has proven its practicality over the years. This item features an exceptionally lightweight aluminum frame. The seat features nylon weaving, which is rather durable and elastic. The weaving is secured in such a way that it can be easily replaced if needed.
When closed, this folding chair takes up very little space and can be easily carried manually or stacked in a trunk of a car. The product is made in the USA and comes in 18 designs. It also features plastic armrests that add convenience.
Interesting and useful information
Comes in 18 colors.
Made in the USA.
Aluminum frame.
Nylon seat.
Weighs 4.5 pounds.
Holds up to 200 pounds.
It is not particularly wide or tall, but rather comfortable for people of a standard build. In spite of its lightness, this outdoor folding chair is rather durable, since it is made of high-quality materials. Besides, aluminum is not prone to rust, so even if it gets wet under rain or dew there is nothing to worry about.
Pros
Lightweight and easy to carry.
Compact in both folded and unfolded positions.
Durable aluminum frame.
Replaceable webbing.
Cons
Rather unstable and requires a perfectly flat surface to stand securely upon.
Verdict
This lightweight portable chair might be great for camping trips, picnics, fishing, and other outdoor activities. It is very easy to transport and store; it is compact and lightweight, but quite sturdy at the same time. However, due to its lightness, it is somewhat unstable and might topple over if placed on an uneven surface or might be blown away by strong wind.
How to Choose the Top Fold-up Chair – A AWESOME Buyer's Guide
Factors you should consider when buying an outdoor folding chair for trips and events:
Comfort. Above all other things, your outdoor folding chair should be comfortable to sit in. It should have a curved back (ideally with lumbar support) and a slightly inclined seat.
Weight. Lightweight folding chairs are easy to transport, but they are rather unstable and topple over easily. Heavy chairs don't have this issue, but they are difficult to transport.
Weight capacity. Aluminum frames usually have smaller weight capacity. If you need a folding chair that can hold more than 250-300 pounds, you should consider models with steel frames.
The main reason why people buy folding chairs is to save storage space when these items are not in use. So it is very important to find a chair that gets really compact when folded.
Maintenance. Outdoor folding chairs should be easy to maintain and be rust and mold-resistant.
Conclusion and Recommendations
High quality outdoor folding chairs can make your picnics, camping trips or sports meets much more enjoyable. There selection of such products is really wide. And we have discussed only the most commonly-used ones. In case you need something. As specific as a folding rocking lawn chair in a bag or a picnic time folding sports chair with a side table. There are surely some great options out there. Hopefully, our product review and buyer's guide will help you find the one that would better suit your needs.